Standard Glass Frameless Glass Showers And Glass Enclosures in New Orleans
Standard Glass provides endless frameless shower glass options for any bathroom remodel or new construction project. Not only can we professionally install tempered shower glass panels in varying thicknesses, colors, and polished edge variations to match any décor, but our expert technicians can also design, fabricate, and install custom enclosures delivering an exact fit for any space.
Standard Glass proudly offers frameless shower glass in the following configurations:
single glass shower doors
door and panel shower doors
corner glass shower doors
We precision measure our frameless units to ensure the tightest custom fit possible. Standard's full suite of technical capabilities also includes customized glass etching and the ability to create original designs from your provided CAD files, with a large selection of popular hardware, handles, and bathroom finishes to complete the design. When it comes to frameless shower glass, there is no more experienced, capable team than Standard Glass.
Frameless Glass Showers – Adds an Air of Creativity and Maximum Visual Impact To Any Bathroom Remodel or New Construction Project.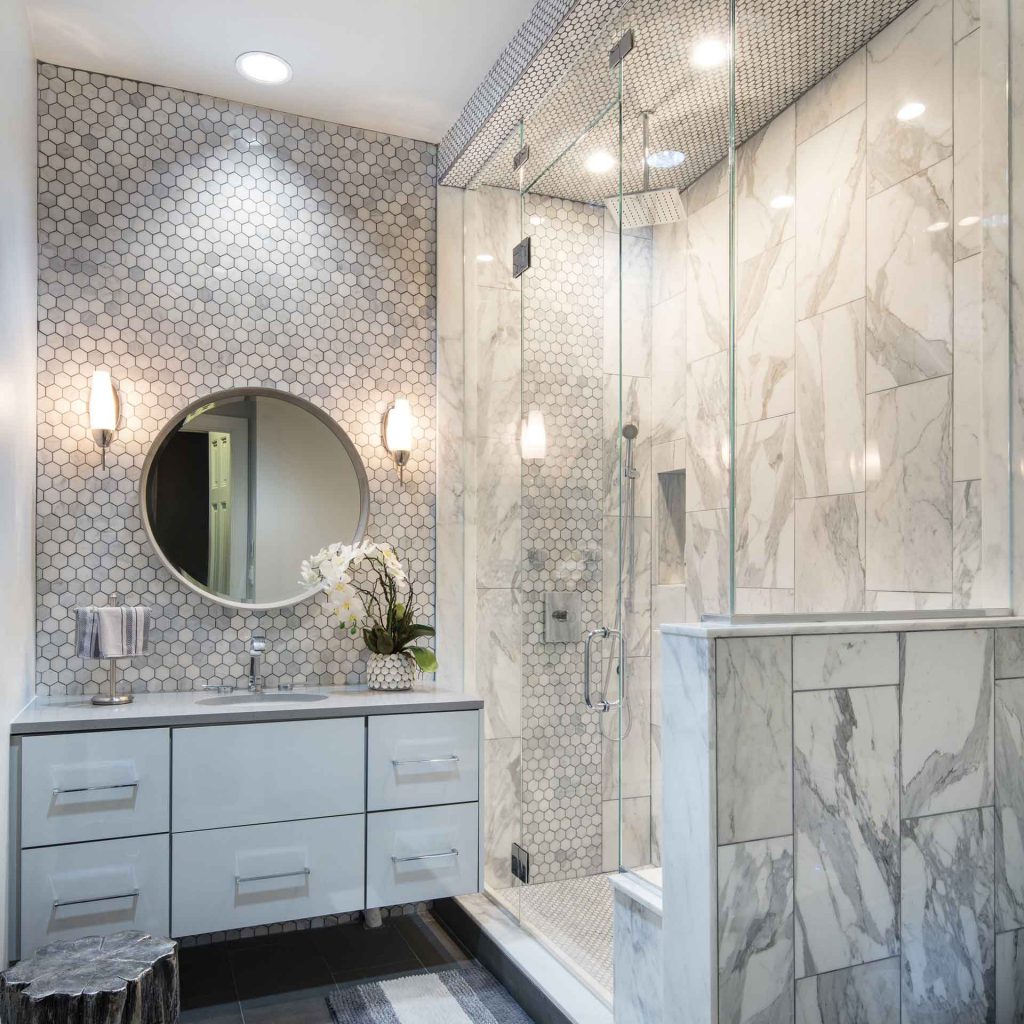 Because frameless shower glass doors and frameless enclosures use thick glass (from 3/8" to 1/2" thick) with polished edges, they don't typically require metal framing to provide structural stability. These frameless applications bring a more contemporary, open feel to smaller spaces while adding elegance and luxury to larger bathrooms.
Often referred to as heavy glass because they utilize thick polished glass and specialty hardware for structural support, frameless enclosures deliver a more open, modern style. Ideally suited to enhance specialty tile work and high-quality finishes, Standard Glass offers frameless shower doors and enclosures in a variety of customizable design options to suit any size bathroom in any style home. And while some appreciate the fact that the lack of framing allows for easier cleaning, most homeowners choose to invest in frameless shower enclosures in order to create showplace bathrooms for their home.
Frameless Glass Enclosure In Your Bathroom.
Our frameless glass solutions are perhaps the best way to spotlight design features like distinctive bathroom tile, marble, or granite work. More durable than framed shower doors, frameless glass holds its look and value for years. Some homeowners may even realize an increase in their home's resale value due to the professional installation of frameless shower glass by Standard Glass. Frameless glass has become so popular with many renowned architects that it is today viewed as an exciting new trend in interior design.
Standard Glass measures all frameless enclosures to ensure the tightest custom fit possible across multiple configurations—everything from an in-line shower door on a single side to a four-panel wall surrounding a bathtub. Other options include angled frameless shower doors in a corner that feature three glass panels on each side, where the middle panel functions as the shower door. Of course, each configuration is available in even more options when you consider the thickness, pattern, color, and polished edgework finishes that Standard Glass offers.
Low-Iron Glass –  A Clearly Better Alternative.
Standard can provide this premium glass option for any application. Excess iron particles give glass the greenish tint with which we are all too familiar. Low-iron glass by Standard Glass New Orleans has undergone a special process to remove additional greening iron particles. The result is an exceptionally clear glass with a drastically reduced green tint and a nearly colorless appearance that allows for increased light transmission and provides ultra clarity. Found in the finest museums and art galleries, this premium glass is crystal clear and can be used on tabletops, shelves, skylights, windows, and shower or wall partitions as a replacement for normal glass that has a green hue.
Reduce Cleaning Time With EnduroShield®.
Utilizing nanotechnology to protect shower glass from staining and etching, the EnduroShield coating process offered by Standard Glass also helps to make glass showers much easier to clean. Standard Glass can apply this revolutionary coating as part of any new shower installation.
This advanced protective coating is suitable for all types of glass surfaces, including: tempered, laminated, curved, insulated, low-E, acid etched, and sandblasted. EnduroShield requires only vinegar and/or a mild detergent to effectively maintain, with no need for harsh, toxic chemical cleaners. Because EnduroShield has been documented to last beyond 10 years, Standard Glass is pleased to offer a 10-year limited warranty.
Elegant Options for the Budget Conscious.
Standard's framed shower doors and enclosures are available in every possible configuration. In addition to offering homeowners plenty of options on bypass, inline, and pivoting framed shower doors, our expert technicians can also provide custom designed glass enclosures to suit your individual decor and bathroom layout.
Because frames provide most of the necessary support, little structural integrity is required of the glass so there's no need to use thicker glass, specialty hardware, or highly polished edges. These aluminum or composite frames also allow Standard Glass to offer a wide assortment of decorative glass options, and because framed shower doors and enclosures provide a watertight fit, homeowners can explore a world of possibilities for shower door placement, as well.
Let Standard Glass help to create your own personal sanctuary—an escape to soothe and refresh your body and mind. Contact us for your free consultation and estimate today. We'll arrive with glass and hardware samples, as well as an online catalog of prior installations. Once the finishes are determined, and after calculating weight allowances to assess the stability of your unit, Standard's estimators will create a diagram of the layout and provide you with an estimate as promptly as possible.